Waves Version Of Auto Tunes
Disclaimer: Links throughout the article may be affiliated. If you click and make a purchase, I get a small commission. As an Amazon Associate, I earn from qualifying purchases.
Whether you're a home producer or work at a major recording studio, Autotune and other pitch correction software can help deal with a weak vocal performance.
Auto-Tune Live is a program that features genuine Antares Auto-Tune technology optimized for real-time pitch correction or creatively modifying the intonation of a performance. It allows virtually instant response in performance or when tracking in the studio and with its MIDI control capabilities, you can control all of Auto-Tune Live's key. Waves 11 Full Bundle (Mercury, SSL, Abbey Road, MultiRack and +) Waves 2020-Jan 64-bit Windows 8 and 10 Online Installer Direct Download (301MB). Which autotune plugin is the best? In this video, we will put head to head some of your favorite autotune plugins and see which one is the best.Auto-Tune Acc. Antares auto tune Pro Full Version is well recognized for expressive innovativeness as well as feature pitch treatment. The usage of this item it ensures you, that this vast majority of your real words stay unblemished therefore using this item it is possible to twinkle your personal performance and expression. Waves Tune Vst Free Download.
In a hurry? I love Melodyne 4 Studio from Celemony. It's sounds incredible, leaving little to no artifacts on vocals recorded in a treated space, but are in need of a little fixing.
But Autotune isn't reserved exclusively for pitch correction. T-Pain popularized the hard-straightened pitch, even going as far as releasing an iOS app called "I Am T-Pain."
Pitch correction software can also be utilized for other instruments as well. I've even used VariAudio (the "Autotune" built into Cubase) on bass guitar parts that were slightly out of tune. The result was surprisingly excellent, with little to no audio artifacts.
There's a lot you can do with Autotune and similar software.
With so many options for producers, how can you decide on which one to use? Fortunately, I've had the experience working with many pitch correction plugins to weed out the good from the bad.
I'm going to include both free and paid options, so please read on!
Have an interest in virtual instruments? Don't miss my other roundups!
Table of Contents
1) Antares Auto-Tune Pro (Paid)
Auto-Tune is the original pitch correction software. It's so popular that its name is synonymous and is more of a colloquial term.
Waves Autotune Crack
Antares gives you a couple of options to pick from depending on your needs — Pro, Artist, Access, or EFX+. As you'd guess, the price moves up the more features there are.
Auto-Tune is very hands-off. I'd even go as far as to say that it's the most straightforward plugin for correcting pitch.
Pros
Easy to use for beginners
Lightweight on memory
Great-looking user interface
Cons
AUTO mode is limited
Difficult for beginners to use GRAPH
A little outdated compared
When using Auto-Tune on a vocal track in AUTO mode, set the key, the retune speed, and the amount of humanization. You should be able to hit the playback button now and hear hopefully great results.
Because it's simplicity, I find that it doesn't perform as well as others (when using the quick settings) that require more fine-tune vocal editing.
To fix an abysmal vocal performance, use the graph mode and hand tune each note to your liking. This process is much more complicated but yields a far better result.
I am not huge on Auto-Tune (I know many are), but it can deliver exceptional results. If you take the time to learn how to use it properly, you'll have great-sounding vocals with ease.
Auto-Tune from Antares is available at Plugin Boutique.
2) Steinberg VariAudio — Cubase Pro (Paid)
Steinberg's VariAudio is a pitch correction software included in Cubase Pro. It's not a standalone plugin, so you won't be able to use it if you don't own Cubase Pro.
But, for those of you with Cubase who didn't realize your DAW has pitch correction, rejoice!
I love VariAudio — so much so that I couldn't imagine switching DAWs. I've been on Cubase for ten years, so I know my way around, but VariAudio is the one thing that will keep me as a forever customer.
Pros
Integrated into Cubase
Quick to edit any clip
Very fast and no CPU
Cons
Audio artifacts are very noticeable if not careful
Limited cutting resolution
Not intuitive at first
VariAudio functions similar to Melodyne and Auto-Tune's graph mode. Double-clicking on a clip opens up the editor, where you can choose to enable VariAudio — no plugin required.
From here, it's simple as using Pitch Quantize and Straighten Pitch on each clip. Cutting clips also helps pitch only individual sections of a waveform.
The newest version of VariAudio introduced some incredible options for adjusting pitch that make the software even more valuable.
I highly recommend considering Cubase Pro if you plan to switch DAWs — for VariAudio exclusively!
Steinberg's Cubase Pro is available from Plugin Fox.
3) Celemony Melodyne (Paid)
We're moving up the price ladder, but for a good reason. Melodyne from Celemony is one of the most utilized pitch correction plugins used by professional vocal editors and producers.
Melodyne offers (to my ears) the most accurate and musical sounding algorithm, leaving no tuning artifacts that are easily recognizable to the untrained ear.
Pros
Incredible-sounding algorithm
Tons of flexibility when vocals sound poor
Zero audio artifacts in most cases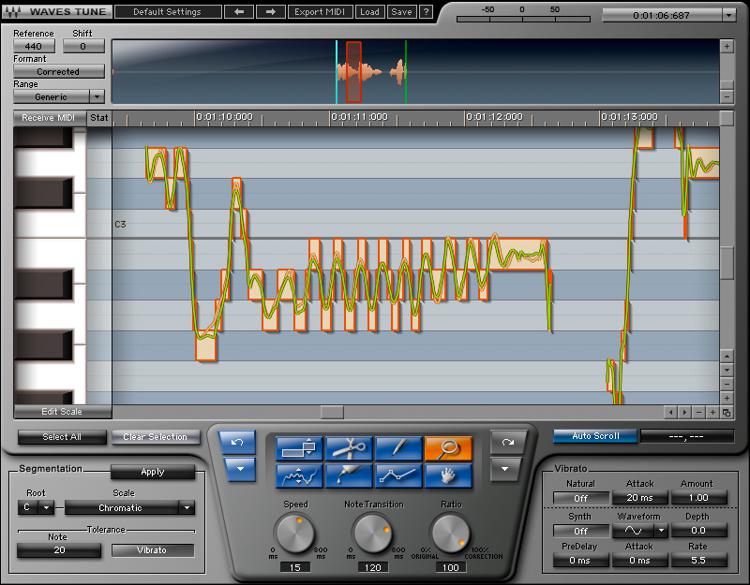 Cons
Difficult for new users
Rather expensive
The software has incredible note detection allowing for more accurate tuning. I find that in VariAudio, there are times that the software cannot understand individual notes, so they are omitted. It's not too often this occurs, but Melodyne does it better.
Melodyne is available at Plugin Boutique.
4) Waves Tune (Paid)
Waves Tune operates similarly to Auto-Tune and Melodyne. Before you begin tuning, the software scans the audio track and displays audio waveforms.
The process of editing is quite similar as well, though the interface is slightly dated.
Pros
Included in many of Wave's plugin bundles
Relatively lightweight on CPU
Cons
I have never enjoyed using Waves Tune but figured it needed a mention since Waves is one of the most popular audio plugin companies.
5) Waves Tune Real-Time (Paid)
While cheaper than the regular version of Tune, Tune Real-Time offers a quick and user-friendly experience for tuning vocals. I'd compare this plugin to using Auto-Tune on AUTO mode.
Note transition is iffy at best and artifacts are present throughout (at least when I used it). The plugin isn't smooth sounding at all, and there aren't many parameter changes available.
I'd recommend Real-Time for two different scenarios. The first being someone new to audio production looking to fix a vocal without technical knowledge of tuning vocals. You won't get the most professional sound, but it will be acceptable.
The second scenario is for producers working with singers in the studio who struggle to sing on pitch.
Using a pitch-correction software can boost the confidence of the singer in the booth, though I can't say for sure if this will lead to a better sounding vocal take.
Despite the marketing of Waves Tune Real-Time, claiming instant vocal tuning, I could envision latency becoming an issue in some home studio settings.
Free Auto-Tune VST Plugins
If you're on the fence about which one to get or want to save a little cash, try some of these free pitch correction plugins I've listed below.
Things To Consider When Choosing a Pitch Correction Software Plugin
Despite all the choices I've laid out, you still may be confused on the correct option. Here are some things to consider before making a decision.
Does the software maker provide a trial?
If so, take the trial and check out the software! There's nothing more frustrating than buying a plugin only to find out that it's non-refundable.
Do you need graph editing functionality?
Graph editing, like seen in Melodyne and VariAudio, is for advanced vocal editors. If you need a quick tuning for a little enhancement of a track, you may not need to edit each note.
If you want to draw in the notes physically, a more advanced pitch correction software will be necessary.
Further features you may desire are formant control, MIDI input (for vocoder), and note straightness. These types of effects are often essential in a lot of today's popular music.
Does your DAW already have pitch processing?
Mine does — that's why I've included VariAudio in this list. Digital audio workstations like Propellerhead's Reason and MOTU Digital Performer also come with their native pitch correction software.
Wrapping Up
Which one do I like most? If I didn't have VariAudio included in Cubase, I'd most likely be using Melodyne exclusively. It sounds incredible, and the workflow is so intuitive.
So there you have it — my list of the best Auto-Tune/pitch correction VST plugins. Which one do you currently use in the studio? I'd love to hear from you down below in the comments. Thanks for reading!
What is Autotuning?
The question of what is autotuning? This short article will provide an overview of this crucial concept, including a definition of the term.
Autotuning refers to the process of tuning your software to achieve better performance when it comes to creating immersive music. This can be accomplished by implementing heuristics or common sense in a given application.
The most common use of heuristics is in the selection of the right autotune free software for a given project. Once you have determined that a particular algorithm is the best suited for the job, you will use an autotune technique to produce the audio outputs that can mesmerize everyone.
So, when it comes to music, the autotuning software allows us to easily do necessary modifications in the voices so that it can match our desired style of music. You can get detailed information about Auto-tune on Wikipedia very easily. Also, various autotune free software are there to help you with everything.
Because of the huge demand for autotuning in the music industry, the demands for paid and free autotune software are increasing day by day. In this article, I am going to help to find some of the best and autotune free software.
What is VST?
VST stands for Virtual Studio Technology. This stands for a combination of hardware and software that you install on your computer. It has two main components, which are audio effects and virtual instruments.
The VST also allows you to plug in multiple instruments together into a single audio track. This makes it a very flexible software package for recording and mixing music. There are many features that can be applied to an individual instrument or to a whole mix when creating a stereo mix.
A VST can be called a sound editor in some circles. In this way, it's similar to being able to edit a picture or a drawing in a graphics editing program. A lot of software sounds like this, and it all has something to do with music and making music.
VST also has the ability to mix several tracks together, which makes it much more flexible and practical for various musical uses. So, instead of finding autotune free software, you can just go for VST and add some plugins to support yourself in autotuning.
List of top 10 Free Autotune software and VST Plugins
Adobe Audition
Adobe Audition is a highly popular auto-tune and pitch correction software. Developed by Adobe, it offers excellent services as a popular VST plugin too.
The demo feature can also be used to test the quality of the audio and to see if there are any errors. The ability to correct the recording is a great tool and can make all the difference in a talent's performance.
If a voice seems to come out a little bit different than it should, you can take the time to listen to the recording and see where the audio might be a little off. Correcting this with the trial version will make the performance a lot better. However, with the paid version, you would definitely be able to make much more advanced editings.
The software is perfect for most auditions, but some have additional features that make them even more beneficial in the music industry.
The software was designed for live auditions, but there are many functions to add to the software for recording as well. The recording features are already developed and are ready to go, so this can be an easy feature to use.
All of the features will help anyone prepare for the auditions and be able to get the most out of them. If you are a student or someone who is looking for extra help in your auditions, this is the right tool to use.
Acid Pro
Acid Pro was the company responsible for creating the MML and Basic, two of the most popular music sequencing softwares that became popular in the late nineties.
If you've ever heard about how their track "The Good Fight" beat was used in the movie Good Morning Vietnam, then you are familiar with the effects that MML and Basic could bring to your tracks. When the RapGenius technology was released by Mark Hill and Kevin Driscoll in 1999.
RapGenius has recently been bought by this company named Acid Pro, so now Acid Pro is giving us a chance to try Autotune Software. They were the first company that released the software for the mastering engineers, but unfortunately, they weren't very popular and didn't sell very many units.
Despite this, many artists were able to use it to produce the beats they wanted to create and their music sold very well.
The songs were mostly instrumentals and breakbeats but there were some great instrumental and hip hop tracks out there that could be produced with Autotune. Even though I never produced my own music, but I did make a lot of beats at one point when I was a producer, which was a good source of inspiration.
Audacity
The newest version of Audacity has introduced a really cool feature: it's an Audacity plug-in. What this means is that you can not only use it as an audio editor, but also as a music editor, or even as a digital audio workstation!
This has many advantages over the older version which did not have this capability and had to be used only as recording software.
The fact that this new plugin can do so much more than the older versions of Audacity make it better music creation programs than the other competing programs like Cubase, Steinberg Cubasis and Apple Logic.
Many professional music composers used to choose the computer-based computer music applications but since Audacity is now available as a plug-in we can now use the software in our PC or Mac to create beats, music and other creative works.
Since Audacity has the same features as the others, you can just choose to use it to record your ideas and then export it into the other two programs or even convert it to other formats. This will save you some time and effort.
When choosing this plug-in for your computer or Mac you should first think about its quality. Since this plug-in is a software, it should not only produce quality audio, but also audio that is in sync with your musical score. If you choose the right one, then it is very possible that you will be able to create music and sound effects for yourself or for your company that will be professionally produced! Most impressively, it is an open-source autotune free software and platform available for everyone.
Waves Tune
The Waves Tune software can greatly help you in creating great beats by running a two-second sample at a slower tempo and using the Tempo setting to adjust the tempo and speed of the audio sample.
With this particular kind of Autotune software, you can start with a tempo that is typically around 120 BPM. There are many different plug-ins and sites available online that you can use in conjunction with this software that will help you produce amazing beats. Cheat engine 6.3 mac os x download windows 7.
The Waves Tune software can be used to boost the volume of your drums, guitars, or bass guitar. These beats can then be recorded and played back through your speakers.
The Waves Tune software comes with samples that are available in a variety of types, which includes some that are taken directly from different musical instruments.
This software can also be used to record some of your voice so that you can create tracks of yourself singing along with a chorus or other instrumental parts.
Another feature of this software is that it can actually edit your recorded tracks to ensure that there is no distortion, as well as trimming and removing any sections that were not recorded properly.
Wave Tune is not a replacement for a professional recording studio. While this software can help you create impressive sounds. It is simply one tool that you need to make sure you have in order to produce a high-quality product.
You also need to have a good set of ears when it comes to mixing and editing sounds. When using this software, it is important to make sure that the volume is adjusted appropriately.
The Wave Tune software can be found on some websites, but you should also know that it can be purchased from Amazon, which is one of the best online retailers. Overall, if you are looking for a way to get professional-sounding drums and vocals for your projects, Waves Tune is definitely worth a look. Because of numerous other benefits, it can become the best and free autotune software for you.
Cubase
Cubase is a popular piece of software that can do various different forms of music. What this means is that you can use it to create a piece of music which can be used to create a video or album or can even be a radio show. So the question is whether you want to purchase one or two different pieces.
Waves Bundle Autotune
If you purchase two different products from the same company, one for your personal computer and another for your television or stereo set, you will end up spending more money. To get around this, you can purchase just one product from Cubase and then purchase the other product separately. Most importantly, this software serves as an impressive autotune software.
The software is developed by Steinberg which is a popular firm active in the music software industry. The product come in a free trial version. However, the paid versions are also there. You can go for any of the available paid versions of Cubase which are:
Cubase Pro 10.5
Cubase Artist 10.5
Cubase Elements 10.5
FL Studio
The typical step-by-step process that is performed in learning how to use FL Studio is quite quick and easy to follow. Even if you have no prior experience with recording or producing music then you can just download the product for free and begin using it right away.
Waves Version Of Autotune
You do not need any prior knowledge of music production. Once you have purchased the product, you will be well on your way to begin to make music of your own. Because of its excellent features, the software is known as a leading autotune free software.
Another great thing about FL Studio is that you do not need any computer knowledge to get started. The software has been designed in such a way that it will allow you to learn and start using it even if you do not have any prior knowledge or experience with computers. Most music producers or even novice music artists who are just beginning their careers will find the software easy to learn and to use.
There are lots of tutorials available online that will help you get started using the software for autotuning. These tutorials are very informative and will show you everything that you need to know about starting your music career right away. Once you are done with the tutorials, you will be ready to purchase the FL Studio.
In order to be able to create high-quality audio, the first thing that you should do is download the free trial version of FL Studio. This software will allow you to try out the software without any worries whatsoever. The trial version will give you the chance to make some initial music with it before you decide to invest in the real version. The trial version is perfect for you to test the waters of what the software is all about before you decide to invest in the product. It comes in four different paid versions which are as follows.
FL Studio Fruity Edition
FL Studio Producer Edition
FL Studio Signature Bundle
FL Studio + ALL Plugins Bundle
Celemony's Melodyne
As the most popular of all the Japanese anime series, Celemonys Melodyne contains lots of vocal tracks for both male and female singers. The software can be used to produce these vocal tracks with just a mouse, without having to learn complicated and technical instruments such as the VST or AU plugins.
It is very easy to use and versatile piece of software that produces excellent results on the part of the singer. On top of that, the software also features basic, intermediate and advanced techniques for vocal tracks.
Waves Autotune Plugin
A number of basic techniques such as Auto-Tune, Pulse and note pitch editing are included in the software. The simple interface, although quite advanced, is easy to use for those who have little or no experience in programming and creating songs using the ASIO API driver. The ASIO API is an audio device driver which makes it easy to work with the software.
Features in Celemonys Melodyne that make it very popular include the ability to create a pop, rock, jazz, classical and rock songs on just about any genre of music. And it is not only for vocal tracks, but the software also has great features for instrument and keyboard tracks.
Because of its excellent features, the software becomes a popular option for best autotune software. But, in order to use it, you have to pay huge amounts.
Antares Autotune Pro
AntaresAutotune Pro is a highly impressive and advanced autotuning software used by the music experts. Even if you are a beginner, this tool will surely allow you to easily mix the audio tracks and do necessary auto-tuning works without any hassle.
It can perform real-time correction works by adding effects in its graphics mode. It also has a classic mode that helps a lot when you are doing basic autotuning tasks on your system.
The software allows you to have complete control over the vocal performance using its easy user-interface. Alongside, this software is great for the studio uses.
Waves Real Time Autotune
To start using it, you will have to pay a good amount of money. However, the trial version is also there by which you can test this software. The software is available to download for Windows and Mac operating systems.
The official download links are as follows. Although it is not an autotune free software, you can check its capabilities by using its trial version.
Final Verdict
I hope this article will help you to find your desired type of autotune software without any hassle. I suggest you visit the official websites appropriately before choosing any buying any autotune free software for you. Make sure to share this article with the people who may need it.