Mac Grey Laundry Card Hack
Smartcard Laundry Hack
I've been on the fence about this, but I finally decided I would share a smartcard exploit I found awhile back…
My apartment complex uses a smartcard system for it's washers and dryers. We use a "transaction station" to recharge the cards. Being impatient one day adding credits, by chance I stumbled on a way to add "free" credits on to my smartcard.
I did some research, and found out the "transaction stations" are made by a company called Greenwald Industries. (there are no markings or stickers on the station, so it took me awhile to find the manufacturer )
Here's what the transaction station looks like in case you have one in your building/dorm/etc:
Contact Mac Gray customer service. You can call Mac Gray at (847) 782-9211 phone number, fill out a contact form on their website www.macgray.com, or write a letter to Mac Gray. Register and/or Add Value To Laundry Card. Card Instructions. Note: More detailed instructions can be found at your locations Add Value Station. Please call us with any questions or comments at 617-969-4340. Laundry Card FAQ's. REQUEST SERVICE. Don't worry, we'll take care of it! I moved into a new apartment with a washer/dryer in my place. The only problem is I have to pay to use the washer/dryer. They use one of these new credit card things that has a chip in it that gets read by the machine. I want to know if there's a way I can trick the machine or trick my card so I can get free laundry. Keep Your Connection Secure Without a Monthly Bill.Get a lifetime subscription to VPN Unlimited for all your devices with a one-time purchase from the new Gadget Hacks Shop, and watch Hulu or Netflix without regional restrictions, increase security when browsing on public networks, and more. Buy Now (80% off) Other worthwhile deals to check out: 41% off a home Wi-Fi analyzer.
Here's what you do:
1. Put your smartcard into the machine like you normally do.
2. Insert some money into the dollar changer.
3. Now immediately as you inserted the first bill, take a second bill (doesn't matter what denomination) and try to feed it into the changer while the station is still processing the first bill. Make an effort to really try and insert the 2nd bill. Don't remove the 2nd bill until the next step occurs.
4. While you are inserting the 2nd bill the display should be showing "adding credits" on the screen but it should eventually say "bill error" and spit the first bill you put in, out.
5. As soon as it spits the first bill out, immediately pull the smartcard out of the machine.
When you put the card back into the station to check your balance, you will find that, even though the station got confused by you trying to stick another bill in while it was processing the first bill, it still manages to add the credits to your card.
Obviously since you pull the card out of the machine before it is able to reverse the credits, the credits remain on the card.
I don't know how widespread these stations are, but I'd figure I'd share this exploit anyways. Enjoy!
-TheUrge Here we go trina lyrics.
SMARTCARD QUICK LINKS
CARDS, CARDSLIDES, VALUE TRANSFER MACHINES, SOFTWARE, & ACCESSORIES.
SYSTEM BENEFITS
STAND-ALONE SYSTEM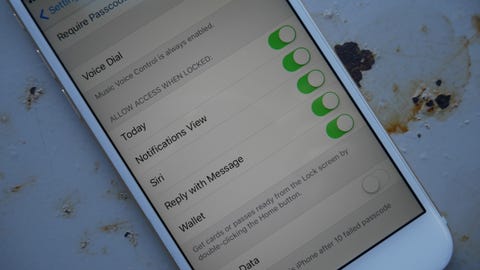 Through a Value Transfer Machine (VTM™) located at the card-operated laundry, customers purchase a SmartCard or MoneyCard and load it with monetary value. Customers can put cash into the VTM™ (some VTMs™ can also accept debit cards and credit cards). After payment is provided, the VTM™ can load value onto the embedded chip on the SmartCard or, depending on the machine, can also dispense a new SmartCard. After loading some value on their laundry card, the customer inserts the card into a CardSlide reader located on a washer or dryer. The CardSlide reads the card value and if sufficient funds are available, the reader signals the machine to start.
SIMPLE TO SET UP & MANAGE
Simple to set up and easy to use, SmartCard Systems are fully accountable. The initial setup of all CardSlide units and VTMs™ are accomplished with ESD Management Cards. The Management Cards are created through ESD's proprietary Laundry Logic Management Software. This powerful software is used to establish card and vend pricing, cycle times, and pricing specials. Management cards make it simple to establish Spanish prompts, as well as perform various accounting functions, audits, and reports. The software can also be used to track a customer's card usage.
ELIMINATES COINS
The SmartCard System eliminates the use of quarters and the associated hassles of coin collection for operators. Meanwhile, residents appreciate not having to carry quarters and use bill changers. Laundry rooms may also feel more secure to both staff and customers.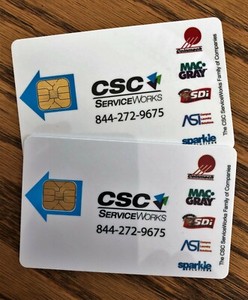 FLEXIBLE REVALUE OPTIONS
There are a number of ways to revalue MoneyCards and SmartCards. This allows operators to tailor laundry room operation. Depending on the type of VTM™ selected, residents can add value with cash, credit cards, debit cards, Electronic Benefit Transfer (EBT; a benefit card for state welfare recipients), and NFC devices.
MORE INFORMATION
SMARTCARDS & MONEY/LOYALTY CARDS
ESD loyalty cards allow residents to carry value on cards – without carrying cash to the laundry room. Card artwork can be customized to display your brand. To add value to their loyalty cards, residents use the laundry's Value Transfer Machines (VTM™).
SMARTCARD CARDSLIDE READERS
The SmartCard system is a true stand-alone product. A SmartCard CardSlide Reader is mounted on the washer or dryer. It reads the remaining value on an inserted SmartCard or MoneyCard, and if available funds are sufficient, the reader sends a signal to the machine to start. It then deducts the vend price from the SmartCard's remaining balance and maintains a record of the transaction. That record can be extracted with an audit management card.
MANAGEMENT CARDS
SmartCard CardSlide Readers are easily set up using a set of Management Cards. While the network connections for the system are pre-configured on the equipment before it is shipped, the Management Cards allow operators to control and test this connection. The cards also allow technicians to test machines upon installation without need for personal credit cards.
VALUE TRANSFER MACHINE (VTM™)
Several types of VTMs™, which work in concert with the SmartCard System, allow residents to add value to their SmartCards and MoneyCards. ESD offers a variety of VTMs™, from a basic cash-to-card machine to VTMs™ that feature a customer-friendly interactive touch screen and accept both cash and cards.
LAUNDRY LOGIC MANAGEMENT SYSTEM
ESD Laundry Logic Management Software provides added control and access to information. An optional feature, it allows operators to adjust vend prices and cycle times, as well as offering total accountability through the audit of machines.
SMARTPHONE APP
Mac Gray Laundry Card Reload
ESD's smartphone app – available for download from iTunes App Store (CyberLaundry) and Google Play Apps (My Laundry) – allows customers to view the status of a washer or dryer, start a machine and view transactional histories. From a smartphone, the app interacts with a vended laundry's wireless payment system and data stored in the cloud to retrieve information and start equipment. Customers can load laundry and then go shopping, study or run an errant. Once laundry is completed, their smartphones alert them! Additionally, when a loyalty card is linked to the smartphone, all transactions are available via the app – making it simple for customers to see how the value on their account was used and when. Since all data is linked through the app, vended laundry owners can also push promotions and news through customer smartphones.
WARRANTY
All ESD SmartCard products are protected by ESD's limited factory warranty.1Contact ESD for more information.
Mac Gray Laundry Service Repair
OPTIONS & ACCESSORIES
Mac Gray Laundry Card
ESD offers additional products to add versatility to the SmartCard System. Contact ESD for more information.