Google Apps Migration For Microsoft Outlook Mac
You can use Google Apps Migration for Microsoft Outlook to import data from a Microsoft Exchange account or PST file, by stepping through a simple migration wizard. You can do a File – Export from inside of Outlook 2011 for Mac. This will export an.olm file, which is the export format for Outlook on Mac. The.olm file needs to be put through a migration tool to be converted over to an.mbox file for Google Apps.
Google Apps, the suite of office applications developed by Google, is gaining so much popularity among the organizations due to its enterprise collaboration and communication qualities. This is the main cause why several Microsoft clients are inclining towards it. Well, whatever the reason for business migration, there are still some issues with migrating email from Exchange to G Suite. Google has been provided a free migration service in the Admin console to help users in direct email data migration. Via this utility users can migrate emails as well as contacts directly from Exchange Server to Google Apps. The tool is compatible with Microsoft Exchange 2010, Exchange 2007, Exchange 2003, and Exchange 2000. If you are a G Apps admin and want to perform the data migration then, make sure you meet the prerequisites to utilize the data migration service. Keep this thing in mind that do not run GAMME from Exchange Server itself because Google does not suggest to do so. Thus, it is better to install the software on a workstation, which is connected to a network that the Exchange is a part of.
To migrate Exchange email to Google Apps, download and install the Google Apps Migration for MS tool (GAMME) tool
To launch the software, go to Start and search for Google Apps Migration for Microsoft Exchange and open it
Now, you are required to enter the source Exchange Server Settings on the first page, specify the server name (or the IP address) and Exchange administrator's username that you may get asked to enter the password for further procedure.
Generate a CSV spreadsheet and fill it with all the users that you need to migrate. This file format requires to add the headers. For more info check the below-given example:
Next, save the CSV and upload it on the next page of GAMME tool: Users and the Domain Information under the File of Users to Migrate. Now, you need to enter the G Apps Domain Name and its Two-legged OAuth Consumer key with Secret. This info can be collected from your G Apps admin console here, make sure that the certain settings are enabled.
Enable the API access under the Security section and click on API Reference >> API Access. Now, make sure that the API access is check-marked or enabled
The Consumer Key is your G Apps domain name. The Consumer Secret has created in your G Apps administrator console under the Security >> Advanced Settings >> Authentication then, Manage OAuth Domain Key:
OAuth Consumer Key: domain.com – Enable this Consumer Key via check-marking it
OAuth Consumer Secret: Click on the Regenerate OAuth Consumer Secret if you get the issues with previously-generated secret
After that, under the Advanced Settings go to Manage Third Party OAuth Client Access and enter the below-mentioned information:
Client Name: Here enter your Consumer Key that is your domain name
One or More API Scopes (in this section, copy and paste the following commands as it is):
Now, click on the Authorize button. If everything is created properly then, it will look like this: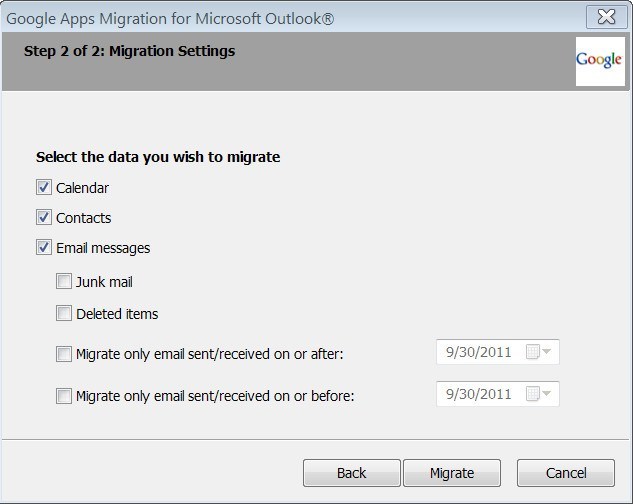 After executing all above steps, return to GAMME's Migration Settings page in which you need to specify that which service requires to migrate i.e., Mail, Contacts, Calendar events. One can migrate Exchange mailbox to Google Apps for a specific time interval. Also, you can skip certain top-level folders from entire user's mailboxes, Deleted Items, and Junk Mail. If a user wants to limit the total number of migrations running at a single time then, they are allowed to limit that via enabling the Restrict Migration to [200] Users At A Time option.
In next page, review the settings that you have entered and Save Settings in case you will need to run the migration again in future. We advise enabling the Running Diagnostics, Estimate and Migrate:
Once after running the Diagnostics checks to validate the settings one can click on Start to begin Estimation procedure to search how many email messages will be required to transfer for all users while migrating email from Exchange to G Suite.
GAMME will display the status of how much data requires to be migrated and the log for each step it takes that you can review in its Log file and in the Error Reports (only in case if there are errors you want to fix)
Important Note: while migrating email from Exchange to G Suite users can log in to their G Apps mailbox for sending and receiving email messages. However, we recommend that do not move the migrated email messages out of their folders (labels) and do not rename or delete the migrated labels until the data migration process gets completed.
Final Words
Considering a common user query for migrating email from Exchange to G Suite, we have come up with this technical paper. Add jpg to xcel for mac with shortcut. Here, we have discussed a simple and manual solution to resolve the issue by transferring emails, contacts, calendars etc from Exchange Server to Google Apps. Executing the complete process requires technical expertise thus, it is recommended to follow the guidelines carefully and sequentially in order to avoid any kind of data loss condition.
When choosing the best way to move your mail, contacts, and calendar data to your new G Suite account, consider the size and complexity of your organization and where your data is currently&. There are various migration tools to choose from. More help with setup. For more help with your move to G Suite.
SysTools MBOX to Google Apps Migration Tool allows to export MBOX to Gmail or G Suite Account. This MBOX to G Suite Migrator allows users to import MBOX MBOX to Gmail & other MBOX Supported Netscape, Eudora, Entourage, Apple Mac Mail to Google Apps / G Suite or Gmail Account.
The.olm file needs to be put through a migration tool to be converted over to an.mbox file for Google Apps. One that is an easy download is called Emailchemy which seems to be quite robust in terms of migration options and file formats as well as is also dead simple to use – just follow the wizard.
If you've simply showed up at this page, you may need to visit:. - a 10-minute tool that outlines what it will get for your business to proceed Google, with information on how tó migrate your data, how to combine your existing techniques, and how to manage your transition. - discover your choices for migrating from Exchange and/or Outlook before moving forward. Review This can be a step-by-step information to migrating to Google Apps from Microsoft View making use of (GAMMO). GAMMO is a free tool provided by Search engines to execute a client-sidé migration to Google Apps. This tutorial will go over the main tips for a profitable switch to Search engines.
This update has made it impossible to view one of my calendars which is an Exchange account. I have no problems with my 3 (three) Office 365 accounts nor my Outlook.com account but the Exchange account fails to display calendar at all. Microsoft office for mac outlook problems updating exchange calendar.
Make use of it to plan ahead, prepare for, and total your migration. After reading through this guide, you should have got a quite solid concept of what is situated forward for you and your customers as you create the changeover to GoogIe Apps. The GAMM0 Guide will be in basic English and avoids too many technical details-we have got left that for the associated Google support pages linked throughout.
End up being certain to check out Search engines's to help you get ready for the migration process and a fór navigating the actual tool. There is certainly furthermore a excellent, but it can become a little mind-boggling if you're also just getting started. Search engines Apps Migration for Microsoft View is compatible with:. Microsoft View 2003® SP3. Microsoft Perspective 2007® SP2. Microsoft Outlook 2010® (32 and 64 little bit) You'll need to install the tool on a computer jogging:.
Home windows XP (32 little bit) SP3. Windows Vista (32 and 64 little bit) SP1. Windows 7 (32 and 64 bit) Action 1: get everyone ready for the change Make sure the right people are on plank Even if you are usually in a place to authorize this shift, you should get sponsorship from éveryone you cán. This contains executives, the IT division, and your customers. If you face resistance from any of the above mentioned people, your migration will not really go easily. Ideally, you will have most of your users behind you as soon as they know the usability, IT, and price advantages of making the change. End up being communicative forward of time Allow everyone understand what can be coming and how it affects them.
Your users need to know about any support interruptions and future software changes. It's greatest if the customers realize the factors for the switch as well-they are usually more likely to embrace it once they realize how Google Apps advantages everyone. If you plan on allowing users to migrate their personal information with GAMMO, instruct them forward of time about how to use the tool.
Mac documents folder missing. Create a routine and keep period to solve issues Several migrations happen flawlessly. Search engines Apps Migration for Microsoft Perspective gives customers the high end of migrating information at their personal comfort, but become ready for some minimal mistakes and enable period to obtain them sorted out.
Numerous customers will likely need support working the tool. Become individual and give support You must identify the significance of proper change management. Every company will have got different needs to attain user skills in Search engines Apps.
Google Apps Migration Tool For Microsoft Outlook
There are usually many options for training customers, from resources like the BetterCloud Monitor and eLearning programs to seminar tráining and Google support pages. In any situation, the IT division should be available in the days sticking with the migration to help with any Search engines Apps increasing pains.
Google Apps Sync For Outlook
Step 2: create technical preparations Prepare Search engines Apps If yóu haven't agreed upon up for a Google Apps account, go ahead and do that. GAMMO works with every edition of Search engines Apps, like the free version. In the control panel, enable the E-mail Migration API, set the correct time area, and Search engines Apps will become prepared to obtain information from the migratión tool.
Create user accounts Depending on how you take care of your users right now, you may possess some different choices to do this. If you use Microsoft ActiveDirectory ór another LDAP machine, will immediately manage provisioning. Alternatively, you can move a CSV-formatted list of email contact information from your Trade server. Upload this list into Google Apps from the Advanced tools section of the control cell and Google Apps will generate an accounts for each email address. Manual user provisioning is usually possible but pretty period consuming, and is only recommended for companies with a small quantity of customers. Arranged up GAMMO ón your Microsoft Windows client devices Download and set up it on your customer computer systems, or have your customers do therefore on their very own machines. Action 3: configure shipping and migrate your information.DO NOT perform these tips until you are usually ready to interrupt email services to your heritage system and begin receiving email in Search engines Apps.
Edit your MX records DNS servers currently steer all inbound email traffic to your Swap machine. You can make all inbound mail mind to Search engines Apps today that your user accounts are usually ready to proceed. Log in to your registrar account, and include the pursuing MX information and priorities:. Server: ASPMX.D.GOOGLE.COM (Priority: 1).
Machine: ALT1.ASPMX.L.GOOGLE.COM (Concern: 5). Server: ALT2.ASPMX.T.GOOGLE.COM (Concern: 5). Machine: ASPMX2.GOOGLEMAIL.COM (Concern: 10). Server: ASPMX3.GOOGLEMAIL.COM (Concern: 10) Established the Time To Live (TTL) option to 300 seconds (5 mins) if it is present Delete your previous MX records, and create sure you conserve all adjustments. Incoming email is today being shipped to Google Apps.
However, it can consider up to 2 days for these modifications to pass on through the Web's DNS hosts. Exchange your data It'h time to begin up GAMMO and publish your data. This information will not include the detail h of this procedure as the tool itself features a quite user-friendly sorcerer to walk you or your users through the procedure of importing data from Perspective and posting it to Search engines Apps. If you require additional support, this has a great walkthrough for using GAMMO. You have got just migrated to Search engines Apps.
Outlook App For Mac
Your users can today sign in to their Search engines Apps records for entry to Mail, Appointments, and Contacts.